African Violets for sale...YAY!
We have items listed on EBay.
Thank you for your support as we have been building this site. We have added a new gallery and will be posting lots of beautiful pics. We are currently focusing our inventory and shopping efforts in our eBay store. Please check it out.
African Violets - Violet Source
My violet journey began in 2009 when I bought my first African violet. While researching how to care for it I discovered a world of gorgeous plants and an amazing network of hobbyist friends. By trading leaves with friends and buying plants online I eventually accumulated over 200 different varieties.
Eager to learn more, I joined a local club and was encouraged to start some plants for our annual plant sale.  The response from the public was overwhelmingly positive. I sold all my plants! The next year I doubled the amount and they all sold! Watching the people come in and get excited about the quality of my plants was amazing. 
I have since began to grow to show competitively and have won some high awards. 
I have had many people contacting me asking to buy more plants (both local and online). Violet Source was created to meet this demand. 
Thank you so much for all your support!
Violet Source 
Gorgeous African Violets:
We specialize in miniature/semi-miniature varieties.
Featuring Wes Carter's (Wesley's) hybrids!
Plants for beginners and and the serious collector.
Plants and leaves wrapped with care and shipped to your door.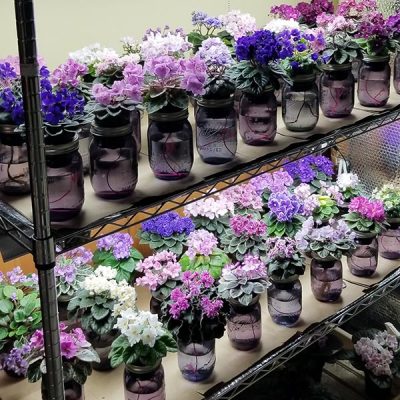 We ship our plants via priority, express mail and overnight carrier due to the sensitivity of our plants. Location, season & climate conditions will determine the appropriate shipping method(s) used. We DO NOT ship Internationally. We typically ship on Mondays ONLY so that your plants are not waiting in a warehouse over the weekend. Length of shipping time, how they are packaged and how they are handled dictate the condition with which they arrive.
We are hare happy to share the labor of our love with you. We also have planed amazing teachings, trainings & tutorials on social media. Check us out on Facebook, Twitter, LinkedIn, Pinterest, Instagram & YouTube – COMING SOON!
Signup for our monthly newsletter "VioletSource" for advanced notification of new hybrids, African violet events, tip & tricks and other AMAZING resources.